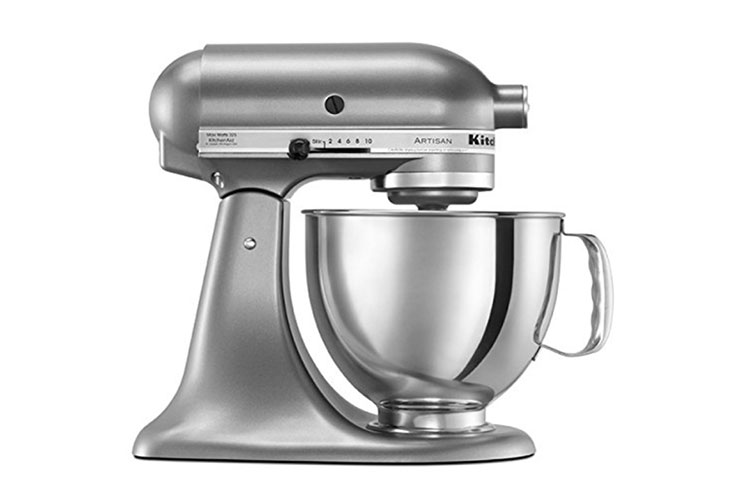 When looking for a kitchen stand mixer, reviews are the best way to start. And if you look at a KitchenAid Artisan Mixer review, you might see that this particular mixer is one of the best available. In fact, a lot of reviews will tell you the exact same thing.
But more important when looking for a mixer is to see what the people say about it. And, how it suits your personal kitchen needs.
The KitchenAid brand name is well-known, and for good reason. They make products that are highly versatile and have stood the test of time. But, is it the best mixer for your kitchen? What sets the Artisan line apart from the normal KitchenAid machines?
There's a lot you want to know, this is an investment after all.
The Last KitchenAid Artisan Mixer Review You'll Need
If you're serious about baking at home, one of the biggest and best investments you can make is in a good stand mixer. The right stand mixer can seriously shave off time when you're working. Plus, it'll give your arm a break. Mixing ingredients together by hand can be so tiring!
If you're in the market for one of these essential appliances, why not go straight to the best? KitchenAid has decades of experience making excellent mixers for everyday home use, and they really can't be beat. One particularly good line of KitchenAid mixers is the Artisan line.
Our KitchenAid Artisan mixer review is the last review you're going to need to read.
Why choose KitchenAid?
If you've spent any time at all looking at mixers, you've certainly come across KitchenAid. KitchenAid dominates the market for household stand mixers. In fact, they're one of the oldest names in the game.

KitchenAid has been making stand mixers for 100 years. With a century of experience, that's decades more than even the oldest of their competitors. In fact, they don't just have a claim on the oldest stand mixers around.

The familiar stand mixer shape, a sort of bracket that holds a bowl locked into place, belongs to KitchenAid. They created in in 1937.

Just because KitchenAid is the oldest doesn't necessarily mean they do it best. And this KitchenAid Artisan mixer review will look at the good and bad of KitchenAid's construction. But why you should consider KitchenAid is because, over 100 years of competition, this brand still stands as the go-to name for stand mixers in home kitchens.
What makes the KitchenAid Artisan Mixer special?
With all of the brand's experience and history of making stand mixers, you may be wondering just how to choose the right one. KitchenAid has a lot of different mixers. They come in a range of sizes, with varying features and capabilities.

That's why this KitchenAid Artisan Mixer review will only focus on one line, rather than try and encompass all of KitchenAid's stand mixer products. The Artisan stand mixer line is quite possibly the best-known KitchenAid line. KitchenAid Artisan mixers have tilt-back heads.

These are common in home mixers and make these mixers a little less expensive than other KitchenAids.

Artisan mixers are all-metal, so they are sturdy and have a long lifespan. This does, of course, make them a bit heavier than other mixers. But how often will you be carrying it around?

Artisan mixers hold 5-quart bowls, so any household batch of cookies or bread will easily fit. Plus, you can purchase 14 different attachments that do everything from roll pasta to spiralize vegetables.

With an Artisan mixer, you'll change the way you cook, every day.
What are people saying about the KitchenAid Artisan Mixer?
The Artisan earns its name by letting you get creative and make all sorts of dishes. But what would this KitchenAid Artisan mixer review be if we just expected you to take our word for it?


To make sure you get a well-rounded idea of what this mixer brings to your kitchen, we went to some of our most trusted sites. Professional reviewers on places such as Wirecutter also have a KitchenAid Artisan Mixer review. Pros like these know what to look for in a stand mixer.

More importantly, they know what you are looking for.

In fact, the only person who knows better is you! People like you, the customer, are the most important step in our review process. How else could we consult thousands of people on whether or not the Artisan stand mixer was actually any good?

Customers put their mixers through more wear and tear than reviewers can, so your feedback is the most important.


Professional reviews
Professional reviews don't always put their products through the same paces that everyday users do, but they are very valuable in their own way. Pros have the experience and the resources to really test these stand mixers and more importantly, compare them to each other.
Wirecutter
personally tested nine different mixers on four different recipes to test things like whipping speed and paddle strength. In their test, the KitchenAid Artisan Series 5-Quart mixer came out on top for the second time since 2013.
They said it powers through bread and pizza dough without trouble, while also easily handling cakes and cookies.
The KitchenAid Artisan mixer review from
Top Ten Reviews
was pleased with its versatility. It handled every test they gave it. It also earned the Best Overall award for 2018.
Customer feedback
The KitchenAid Artisan mixer has a reputation, and this is reflected in the sheer amount of customer reviews. On
the KitchenAid website
for the Artisan Series 5 Quart Tilt-Head Stand Mixer, 20,755 customers have given a review.
From this incredible number comes another one: nearly 20,000 people have given this mixer an average of 4.9 stars out of 5.
The 5 Quart Tilt-Head Stand Mixer also has positive reviews on Amazon. It has
9,336 reviews
and a total of 4.6 stars out of 5. Just the quality of over 30,000 reviews should tell you that the KitchenAid Artisan mixer is a product worth considering.
What will it cost to put a KitchenAid Artisan in your kitchen?
Any stand mixer you put into your kitchen is going to be a bit of an investment. After all, you want to have a product that will last you for years. You wouldn't want it breaking or wearing out on you, especially if you use it regularly. The KitchenAid Artisan Mixer takes care of all that.

Depending on the size and model of Artisan mixer, you can end up spending anywhere between around $200 to nearly $500.

The lower-cost Artisan mixers are, appropriately, smaller mixers. For example, the 3.5-Quart model costs a little more than $200. Meanwhile, limited edition models with special finishes range a bit higher, close to $500.

The most popular 5-Quart Artisan Stand Mixer costs between $250 and $430.
How does the KitchenAid Artisan Mixer Stand Up to the Competition?
By now, it should be clear that from our KitchenAid Artisan Mixer review that this mixer has nothing to prove. In fact, it's other mixers that have to face up to it.

But there are plenty of reasons to look at other stand mixers than the Artisan. Maybe you want something that costs a little less, weighs a little lighter, or sits a little smaller. We took a look at a few competitors to see how they stacked up against this king of the kitchen.
Our comparison process
For each of the following three comparison mixers, we focused on cost, number of features, and customer reviews when comparing them to the Artisan mixer. We tried to find mixers that were comparable to the KitchenAid Artisan, like the KitchenAid Classic Plus.
Or, we found those that had an advantage in price, such as the Hamilton Beach Eclectrics.
KitchenAid KSM75SL Classic Plus 4.5-Qt. Tilt-Head Stand Mixer
KitchenAid KSM75SL Classic Plus 4.5-Qt. Tilt-Head Stand Mixer, Silver
Turn your stand mixer into a culinary center with over 10 available attachments; Electrical: 60 hertz
Max WATTS 275. 4.5 quart stainless steel bowl with enough capacity to mix up to 6 dozen cookies, 3 loaves of bread or 6...
Soft start helps to avoid ingredient splash & flour puff by starting at a lower speed.
The KitchenAid KSM75SL Classic Plus 4.5-Qt. Tilt-Head Stand Mixer stands as a less-expensive alternative to the Artisan. Of course, it is a little smaller than the 5-quart Artisan option. But what else does it offer that is different?
This mixer has a lot of the same features as the Artisan, actually. It has the same Power Hub that lets you attach multiple additions. These work just the same as on the Artisan. Also like the Artisan, the Classic Plus has a tilt-head design and 10 speeds.
A review from Top Ten Reviews found that the mixer had excellent performance when being tested. But they also compared it to the gold-standard Artisan model. In this context, they said that the KitchenAid Classic Plus had fewer features than its larger cousin. It is a more basic machine, at a slightly lower price point.
On Amazon, this mixer received 1,372 customer reviews. Customers gave this stand mixer a total rating of 4.6 stars out of 5. The KitchenAid KSM75SL Classic Plus 4.5-Qt Tilt-Head Stand Mixer costs $200 to $360.
---
Hamilton Beach 63232 Eclectrics All-Metal Stand Mixer
Hamilton Beach All-Metal 12-Speed Electric Stand Mixer, Tilt-Head, 4.5...
Same mixing action as Kitchen Aid stand mixers. Planetary mixing action rotates the beaters around for even and complete...
12 speed settings: Hamilton Beach eclectrics stand mixers let you go from a slow stir to a fast whip, excellent for...
Designed for durability: eclectrics stand mixers give you a powerful 400 watt motor and a built to last die cast metal...
Hamilton Beach tries to beat out its competition by having a futuristic-looking design and more speeds. Plus, it has a few more attachments available and comes at a lower cost.
This Hamilton Beach 63232 Eclectrics All-Metal Stand Mixer has 12 speeds, two more than the KitchenAid models, which gives you more range and control over your mixing. Its mixing bowl is a reasonable 4.5 quarts.
While smaller than the Artisan, it's not a significant difference and will still hold nearly any batch that you'll need to make in a home kitchen.
This stand mixer also has a few attachments ready to go, including three mixing arms and a pouring shield which attaches around the rim of the bowl.
Over 1,000 Amazon customers gave the Hamilton Beach 63232 Eclectrics All-Metal Stand Mixer a review. It earned a total rating of 4.4 stars out of 5. This mixer costs between $170 and $200. You can find it at Hamilton Beach, Amazon, and Wal-Mart.
---
Cuisinart SM-35BC Precision Master 3.5 Quart (Silver Lining) Stand Mixer
Cuisinart SM-35BC Precision Master 3.5 Quart (Silver Lining) Stand...
Powerful 350-watt motor is made of Die-cast metal construction with 3.5-quart stainless steel mixing bowl with handle
Unit has tilt-back head that allows easy access to mixing bowl, 12 speeds for precision mixing and a power outlet for...
Includes: chef's whisk, flat mixing paddle, dough hook, and splash guard with pour spout, instruction manual and...
This mixer from Cuisinart has the smallest capacity of any other mixer mentioned here, but comes with a lot of the features the larger KitchenAid mixer does.
The 3.5-quart bowl is quite a bit smaller than that of any other mixer we've considered, but it still is enough for a lot of home kitchen projects. This mixer also has a die-cast metal body, giving it some weight and staying power. Like all of the mixers on this list, it has a tilt-back head as well.
Like the Hamilton Beach mixer, this mixer has 12 speeds rather than the 10 offered by the KitchenAid mixers. It also comes with the standard array of attachments. These are a whisk, mixing paddle, dough hook, and splash guard.
This mixer is also compatible with four attachments such as a pasta roller and meat grinder. There are a lot fewer than those offered by KitchenAid, but they cover pretty much any basic kitchen application.
The Cuisinart SM-35BC Precision Master 3.5 Quart (Silver Lining) Stand Mixer earned a rating of 4.4 stars out of 5 on Amazon. It costs $145 to $200.
---
Pros and Cons
If our KitchenAid Artisan Mixer review up to this point hasn't convinced you of its superiority, we have a few final comparisons to demonstrate the good and bad of this machine.
Pros
Wide range of attachments give you versatility in use
High capacity compared to most other household mixers
Strong and sturdy mixer will work hard without wearing down
Cons
More expensive than other mixers
Our Spin On The KitchenAid Artisan Mixer
By now, you're probably convinced that the Artisan Mixer is the best option around. Our KitchenAid Artisan Mixer review is based entirely on the facts available from reviews and customer feedback. This mixer is simply one of the best you can find.
It is powerful, it is sturdy, it can do just about anything you'd ever want it to. Sitting on 100 years of tradition and experience, the KitchenAid Artisan Mixer really can't be beat.
The only real drawback is the price. When it's not on sale, the standard 5-quart KitchenAid Artisan can cost more than $400, which is a real investment for most households. But if you're serious about getting the best mixer for your house, just wait for it to go on sale.
If you're willing to drop the cash on a less-expensive mixer, you can always go for the 3.5-quart Artisan. Or, save up and get the 5-quart Artisan on sale for a little more. You won't regret putting a piece like this in your kitchen. Your investment will reward you for years to come.

Featured image via Amazon
Last update on 2023-10-04 at 05:56 / Affiliate links / Images from Amazon Product Advertising API