Sam's Club Cakes prices range from $13.99 for an 8-inch single-layer round cake and $69.99 for a full sheet cake. They offer different designs of cakes for different occasions such as birthdays, weddings, baby showers, graduations, and other holidays.
Cakes are a perfect way to commemorate any occasion! Most people think the only time it is appropriate to purchase a cake is for weddings or birthday parties. Even so, with Sam's Club Cakes you can transform any ordinary occasion into something to celebrate about.
The first Sam's Club opened its doors in 1983 in Oklahoma. As a matter of fact, Sam Walton's initial goal was to provide entrepreneurs with a place to purchase affordable products and services for their businesses. Now, Sam's Club is the eighth largest retailer in the United States. With over 600 locations nationwide, they offer products and services not just for businesses but also for families. Every day, families purchase items for their stores and Sam's Club cakes baked fresh in the bakery are a top-selling product.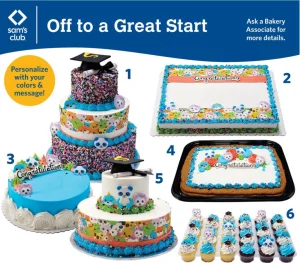 However, it can sometimes be difficult to buy a cake when you're on a tight budget. Specialty cakes are expensive, and even grocery store cakes can sometimes cost pretty much. Moreover, if you want to impress your loved ones and personalize a cake, the price can go even higher. That's why for us, Sam's Club Cakes are such a good option! This is the friendly neighborhood shop that simply changes it all. They have some of the best quality and best-priced cakes for any occasion. Even specialty cakes are more affordable!
So, if you have a special event coming up, consider ordering a cake from Sam's Club.
Designs and Prices
Here are the most recent prices of Sam's Club Cakes. We took them from their website and also from their online cake book. So, if you observe any difference between our table and reality, please leave a comment. We will fix the issue in no time.
Equally important, at their bakery, customers can order customized cakes for any special event. Sam's Club cakes are quite budget-friendly. Therefore, they start at $14, and then the price increases if you get a bigger or more elaborate cake. Our article will guide you to Sam's Club prices. Also, we will show you how much different types of cake will cost. So, keep reading to learn everything you need to know about Sam's Club prices.
Sam's Club Cake Prices

Sam's Club Sheet Cakes

Full Sheet Cake (Serves 96)
$48.99
½ Sheet Cake (Serves 48)
$39.00
¼ Sheet Cake (Serves 24)
$19.89
⅛ Sheet Cake (serves 12)
$15.99


Sam's Club Round Cakes

8 Inch Single Layer Round Cake
$13.99
8 Inch Double Layer Round Cake
$19.99
10 Inch Round Cake
$22.50


Sam's Club Cupcake Cakes

12 Count Cupcake Cake
$15.99
24 Count Cupcake Cake
$19.99

Sam's Club Wedding Cakes

Two Tier Wedding Cake
$49.99
Three Tier Wedding Cake
$69.99
Next, let's find out a little about their designs. Sam's Club cakes are available in white, yellow, chocolate, or marble flavorings. Also, you can choose between whipped and buttercream frosting. Once you select the size, shape, and flavor of your cake, Sam's Club will let you pick out your design. In addition, they offer a lot of standard designs like cartoon characters, balloons, sports images, or floral patterns that can be drawn in any color you desire. Not to mention, cakes can be further personalized with a picture replicated in edible icing and a personal message.
Sams Club Custom Cakes for Wedding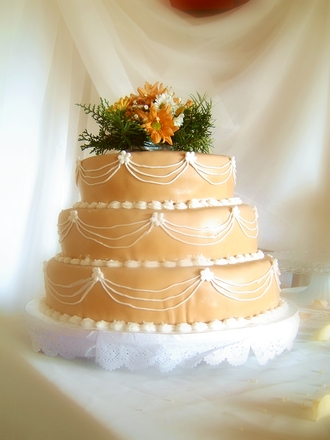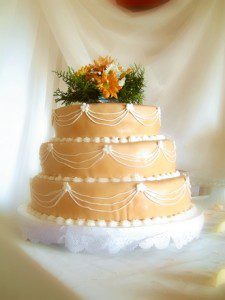 Any person who has arranged a wedding knows how expensive even a small wedding can be. To help reduce the costs associated with a wedding, couples often plan and host their own wedding receptions. So, purchasing food to serve at a reception from Sam's Club is a great way to save money without sacrificing quality.
Tiered Sam's Club cakes are available in the bakery and are beautifully decorated making them perfect for a wedding. Yes, they can take a little more time, but the end results can be quite impressive. Even though Sam's Club cake prices are very reasonable, the gorgeously decorated tiered cakes are just as good as cakes sold in bakeries specializing in wedding cakes. You can order tiered cakes at Sam's Club bakery with the help of a staff member.
Sam's club wedding cakes are the best choice for a wonderful wedding with extremely Sam's Club cake designs. In the end, everybody will think that you've spent a fortune on the custom-made cake. Although, you'll be the only one that will know that quality isn't that pricey. If you know where to buy from, of course. However, you also need to know the types of wedding cakes before buying one.
More wedding cakes: Vons Bakery Cakes
Sam's Club Birthday Cakes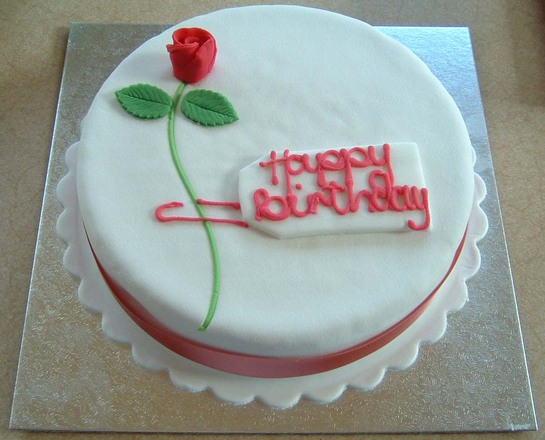 Ordering a cake is one of the most important parts of planning a birthday party. The highlight of any birthday party is singing happy birthday and blowing out the candles placed on the beautiful cake. Sam's Club cakes are the ideal choice for any budget-conscious birthday party planner.
Moreover, they also have a lot of licensing deals, so you can get Disney, Sesame Street, Marvel, and Spongebob characters on cakes for kids' birthday parties. They decorate children's birthday cakes with plastic topper toys and figurines for just a few extra dollars.
First of all, character-themed birthday cakes are always an option for children or even young adults. Also, sheet cakes serving up to 96 people are available for large parties. Sam's Club cake prices are based especially on everything you demand when you place your order. For this reason, you should pay attention to the number of decorations, messages, and of course the size of your cake.
And if your kid loves fictional characters, you might wanna consider buying a Unicorn-themed birthday cake.
More birthday cakes: Giant Eagle Cakes
Sam's Club Baby Shower Cakes
Baby shower cakes have grown in popularity over the years. In addition to serving the cakes as a refreshment at a party, couples are also using their baby shower cakes to announce the gender of their baby. So, they also personalize Sam's Club cakes to show the gender of the baby using colorful whipped icing on the cake's exterior or by placing a specific icing color between the layers of the cake.
Also, they offer cake designs that are baby-themed making them an adorable centerpiece for your baby shower. Another fun idea is to request that Sam's Club print a copy of your baby's ultrasound onto the top of the cake.
However, if you don't want an entire cake for your event, Sam's Club got you covered! Therefore, for smaller baby showers, you can skip getting a full cake and get some tasty cupcakes in a variety of flavors.
You can also hold a gender-reveal party to add more thrill to your upcoming precious little one. Then order your cakes from them.
More baby shower cakes: Publix Cakes
Sam's Club Graduation Cakes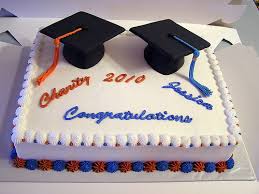 Graduation parties have become a right of passage, especially for those who are leaving high school and entering their college years. While many parents worry about choosing the perfect theme for their quickly maturing child, no one is ever too old to enjoy a freshly baked cake.
So, the friendly staff at Sam's Club can help you pick out the perfect cake design and flavor for your child's graduation party. Also, the cakes sold in the bakery come in a variety of sizes including a 10-inch round cake that is the perfect size for a small gathering of 10 to 15 people. Other sizes including full sheet cakes are available for those who would like to order a larger cake to accommodate a huge gathering.
Not to mention, Sam's Club can top the cake with a graduation cap, the year of graduation, or a message saying "congratulations". Also, decoration options include icing a cake in the graduate's school colors or printing a picture of your choice.
More graduation cakes: Wegmans Cakes
Sam's Club Holiday Cakes
The holiday season is one of the busiest times of the year for most of us. Between traveling, shopping, and preparing for family visits, few people have time to indulge in baking. So, instead of spending extra time shopping for groceries and baking, consider purchasing a Sam's Club cake. In this way, you can spend more quality time with your family.
You can pick up freshly baked cakes available in the bakery including bundt cakes, sampler cakes, and traditional holiday cakes without placing an order. Customized seasonal cakes are also available and must be ordered at least 24 hours in advance at your local Sam's Club bakery department.
Suggested Read: Freezing Cakes
Final Advice
Finally, purchasing a cake from the Sam's Club bakery is a great way to save time while indulging in an inexpensive treat. Their cakes are freshly baked daily and the friendly staff members are always willing to help you find the perfect cake for your individual needs.
Also, if you would like to purchase a personalized cake just complete an order form. You can find it at your local Sam's Club store. You can find a location near you and see their address and phone number by searching in the online Sam's Club store locator. Not to mention that certain cakes are also available online. They can ship it directly to your home. Although, you'll have to order it 24 hours in advance.
So, that was it! Now, we all know how to place an order at Sam's Club Bakery and what they offer. Next, it's time for your opinion on this issue. What was your personal experience with Sam's Club cakes? Were you satisfied by the price-quality rapport? Does Sam's Club live up to its reputation for affordability and taste with its delicious cakes? Let us know everything in the comments section.
You may want to check out other related options like Dairy Queen Cakes, Publix Cakes, and Safeway Cakes.
There are so many events and holidays that may occur in just a year. Birthdays, weddings, baby showers, and different regular holidays in the calendar, you name it. As per tradition and even just simple demands, cakes are undeniably one of the most required desserts on the table. Here on our website, we offer you different choices of brands with their corresponding prices, designs, and ordering process. Check us out now! Or you could be directly looking for pieces of information about Paw Patrol Cakes.