So, you want to throw a party, do you?
Do you want to throw the same old tired party that ultimately fell flat and failed to impress last year?
NAH Forget that noise.
Whether you're throwing a surprise party for your significant other or a 20th anniversary, you need to step up your game to make things truly special.
The last thing this world needs is more mediocre parties. Let's spice things up this time around.
Throw the Perfect Bash with These 64 Cute Outdoor Adult Birthday Party Ideas
We're going to throw our bash outdoors this year and really shake things up with this venue choice. Even better, following many of these suggestions for outdoor adult birthday party ideas should help you cut down on the cost.
So, let's just jump right. Never throw a lame adult birthday party again using these life-saving tips.
Choosing from the Best Outdoor Birthday Party Ideas for Adults –18 Options
To start, we need a select a theme.
From there, everything else should fall in line (such as the decor, food, music, etc).
We've created a list of 18 of our absolute favorites.
1.) Backyard Bonfire
What could be more natural for an outdoor birthday than a bonfire themed shindig with friends and family. The mini-bonfire matches (pictured above) shaped like a 30 is super clever and cute! The perfect way to get your party started. Don't forget to bust out the bbq!
Inspiration courtesy of ASubtleRevelry
2.) Luau
Get your swimsuit and grass skirt. This party is the perfect way to practice your hula skills. The source for our idea is a bit childish and young. But, you can make the party a bit more adult with Mai Tai's and less juvenile décor. We'll go over Luau decorations a bit more in depth later.
Original Idea Courtesy of KarasPartyIdeas
3.) The Color Run 5k
Ya know that color run we host in San Jose every year? Why should all the fun be had by the runners. Bring the distinctive 5k to your backyard (or a nearby park for less clean up!) by hosting a Color Run themed party. This perfect for marathon enthusiasts. Plus, it's surprisingly cathartic to be pegged with a balloon filled with powdered dye.
Photo Courtesy of Adobe; Original Idea from Holly Hocks and Honeybees
4.) Chic Picnic
If you prefer to dress up your party more than usual, a chic, black tie theme picnic could be nice. Don't forget to pull ALL the stops. Go the extra mile and use fine china/gold plated utensils. Don't have that sort of décor? Never fret! You can simply use gold colored plastic wear for a nice ironic pastiche. Perfect for the diva in your life.
Want to throw your own Chic Picnic? Check Out CueTheConfetti
5.) Roaring 20's
People dread turning 30. Actually, most people growing older in general. Celebrate your friend's wild, untamed 'roaring 20's' and her transition to the 'rolling 30's' with this witty theme. As an added bonus, have guests dress up in masquerade style masks like a ritzy 20's era ball.
Say Goodbye to The Roaring 20s With CelebrateAlways
6.) Carnival
Why go to the San Mateo County Fair when you can bring the festivities to the comfort of your very own backyard. The general idea here is to focus on colorful decorations and to serve general fair-type food. Don't forget to throw in a unique gimmic such as a dunk tank or fortune teller vending machine to really nail the theme.
Original Idea From BirthdayInABox
Don't forget to keep those pinkies up, ladies! Guests can wear darling floral hats and summer dresses. If you and your friends are feeling particularly proper, this could be a perfect way to celebrate a special occasion. Keep in mind, this party isn't everyone's…cup of tea. …UGH
Courtesy of TodaysParent
8.) Red Solo Cup Surprise Party
"I fill you up, let's have a party!" The best part about this party is how affordable and fun it is. If you're looking for something fun, low-key, and simple, much like the song it's based on this theme is perfect. Check out all of the unique decorations and party hats you can make from Solo cups. We have a mini-infographic below about portion sizes when serving alcoholic beverages in a Solo cup.
Check Out AndersRuff For Additional Details
"Everybody Wang Chung tonight!" Is danger your business like Jeff Spicoli? Wear your age like the badge of honor it truly is with this 80's themed birthday. Show the world how like TOTALLY back neon colors and Raegan-omics truly are. I recommend using trapper keepers from the thrift store for invites. Bonus points for using Echo and the Bunneymen and Tears for Fears songs that WEREN'T played on the radio. We'll go deeper into some of my favorite 80s birthday party ideas for adults later in this article.
Like The Idea? Make Sure You Check Out Lynlees and Follow Them On Facebook!
10.) AS IF…There's Anything Better Than The 90's!
Are you rollin' with the homies? If you're all that and a bag of chips, give this theme a shot. How could you not find it totally rad?
Buzzfeed Has The Complete Dets If You Want To Throw Your Own 90s Party
11.) Groovy 70's Soiree
Can you dig it? Rollar skate in with your pet rock with this groovy party theme. Guests can enjoy fun games like Rock-em-Sock-em Robots and Mousetrap. You could also serve Tang from a punchbowl. Perfect for a birthday boy or girl approaching that big 50th birthday.
Looking For Additional Ideas For Your 70's Soiree? Check Out BirthdayPartyIdeas4Kids and Follow Them On Facebook
"Frankly, my dear, I don't give a darn" Uh oh. Do you have a southern bell on your hands? This old-fashioned picnic should be perfect for her refined tastes. Have your guests (dressed in proper, Sunday apparel of course) sit on blankets. You can eat classic Southern picnic fair such as boiled peanuts, lemonade, and cornbread. Don't you dare forget those pulled pork sandwiches!
YouPlusMeForAlways Has the Complete Instructions For This Picnic
Whether you want it to be or not, 40 is a big milestone. Give it the proper celebration it deserves!  You may want to spring for a live mariachi band to really season your party.
Like And Follow the Creators of This Party, AestheticNest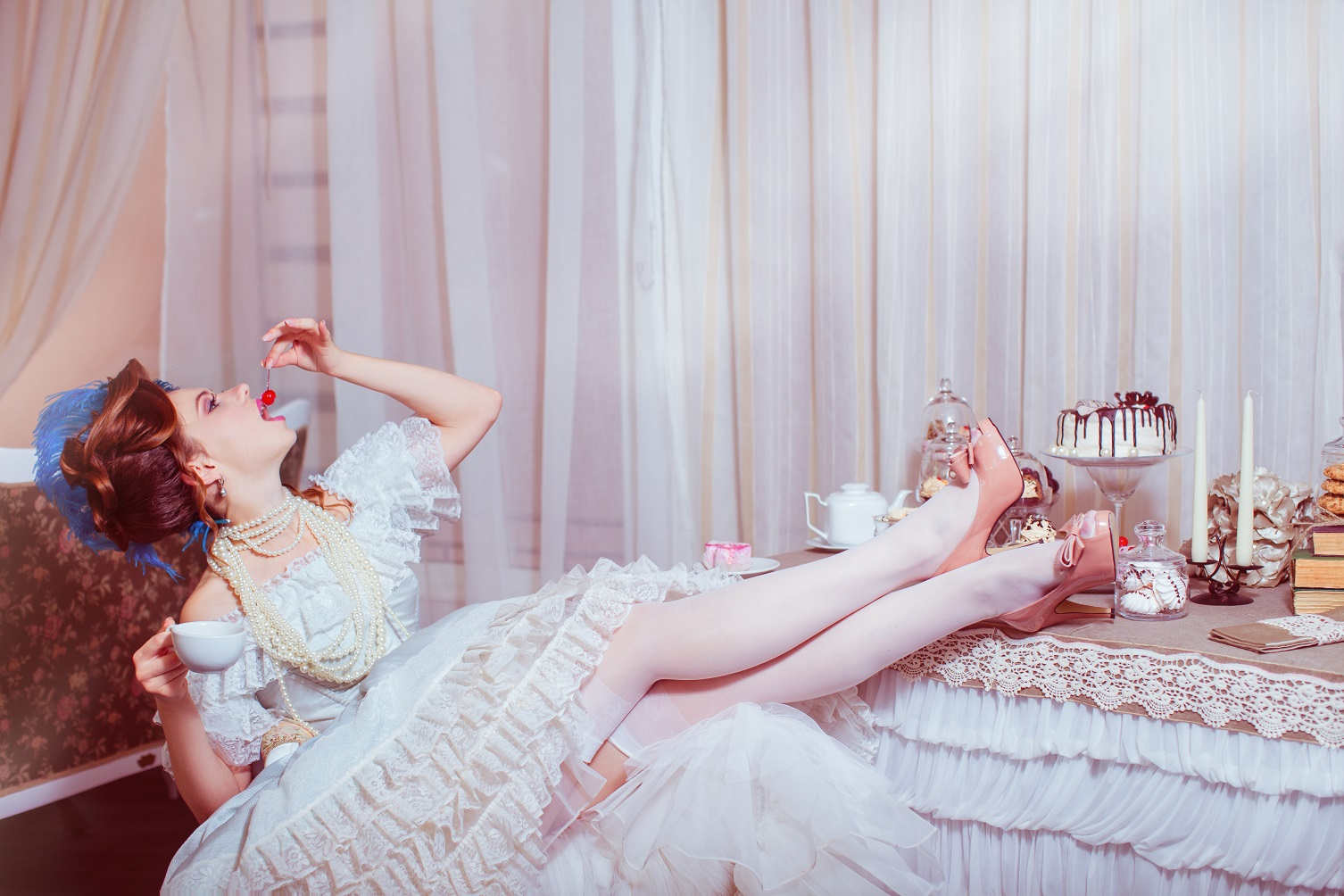 14.) Posh Marie Antoinette Picnic
Do you ever just wish society would let you eat cake sometimes? If your honored guest is a fan of that Marie Antoinette film that came out in 2006, THIS posh French aristocratic themed party is wonderful. Your guests will really need to step up their costume game. Just don't lose your head with all of the extravagances, or you may have an angry mob of French peasants on your hands.
Picture From Adobe; Original Idea From KateLandersEvents
15.) At The Drive In
No, not the band (though that is pretty rad). I'm talking about a Movie Drive in themed birthday party. Obviously, you'll need to host this one in the evening following sunset. This could very well be one of the cheapest parties on the list. According to the theme's creator, the party was able to feed 15 people for just $50!! We recommend a cute Audry Hepburn romance like "Breakfast at Tiffany's."
Original Party Idea From PartiesForPennies
16.) Adult Themed Circus
Similar to the carnival theme above. However, this one specifically focuses on a 'big top' theme. With just a few very simple DIY decoration (or two) and creative elements, you can completely transform your backyard into Barnum and Bailey! If your party is pretty small, consider taking your guests out to the real circus before or after the party!
Make Sure You Follow the Originator, PrettyMyParty, on Facebook!
17.) Alice in Wonderland Whimsical Tea Party
This party is so stinking cute! It's a modern-day take on a classic fairy tale! Once they arrive, each guest receives a whimsical party hat to wear to this veritable Mad Hatter tea party.  Don't forget the hand-stamped "eat me" and "drink me" tags and wishing tree.
Original Idea Source: HostessWithTheMostess
18.) The Amazing Race
"11 teams, 9 countries, one amazing race" This neat party hinges around competitive mini game series mimicking everyone's favorite reality show. I would recommend not making the games too physical unless everyone attending is in great shape. The best part – at the end, your winning team takes home cool party favor package!
Original Party Design From TheBudgetDiet – Make Sure You Follow Them For Additional Ideas
Turn Bland Get Together into Something Spectacular with These 80s Birthday Party Ideas for Adults
So, you've a theme from our list of the best outdoor adult birthday party ideas. You selected the 80's theme and aren't sure how to proceed.
I mean, sure. You were born in the decade.
But, that doesn't necessarily mean you know how to take an entire decade and encapsulate it into one fun afternoon.
Don't worry, friend. I've got your back.
80's themed parties make a wonderful 30th birthday for us older millennials.
You're going to throw the best 80s party on the block using some of these ideas.
Hors D'oeuvres
Look, if you're going to dine like the 1980's never ended, you can't just serve any old appetizer. You need to really drive home that vibe.
You may be a bit surprised by some of the Hors D'oeuvres because they're still popular to this day. But, every one of these dishes rose in popularity sometime during the 80's and became a party staple.
Look at these 5 bodacious finger foods and snacks to serve before (or after) a main course:
1.) Rice Crispy Rubix Cubes
2.) Popular 80's candies (Nerds, Pop Rocks, etc)
3.) Cupcakes With 80's Themed Fondant Icons – Use fondant icons of bulky cell phones, Gameboys, floppy discs, etc.
4.) Swanson (Inspired) Pot Pie Turnovers
5.) Individual Serve 7-Layer Dip
6.) Ambrosia
7.) Potato Skins
8.) Steak-Umm Sliders – think White Castle with cheese steak
9.) Sloppy Joes Nachos – Gross, but apparently this 'delicacy' was a big thing during this decade.
10.) Pizza Rolls/Bagel Bites
Entrée
Now we get to the main portion of the meal, dinner. If you're going with an 80's theme, don't serve your guests something generic like Hamburgers and Hotdogs.
Frozen Meals – This choice is a bit controversial due to more recent push back against processed foods this decade. But, processed foods really became part of the mainstream norm in the 80's.
French Bread Pizza
Beef Stroganoff – Classic of the 80's. Make sure you use Campbell's Cream of Mushroom soup or Hamburger Helper. Alternatively, try Stroganoff burgers.
Sloppy Joe Casserole
Lipton French Onion Soup Meatloaf
At Home Pizza Kit – You'll be hard pressed to find an original Chef Boyardee kit (and why would you want to??), but you can purchase any generic pizza kit and let your guests make their own.
Drinks
Slimer Hi-C
Tang
Decorations
Neon EVERYTHING
80's Lockers – Perfect for those of you in high school during the 80s. Let guests decorate their own makeshift locker doors.
Vintage Magazines – Commodore Club, Muppet Magazine, Teen Beat, etc
Vintage Toys – Cabbage Patch Dolls, Care Bear, plastic sunglasses
Wendy's "Where's The Beef?" Slogan
80's Movie Posters – Breakfast Club, Ferris Bueller's Day Off, The Goonies, etc.
Etch-A-Sketch
Music
Livin' on a Prayer - Bon Jovi
Livin' on a Prayer – Bon Jovi
I Wanna Dance with Somebody (Who Loves Me) - Whitney Houston
I Wanna Dance with Somebody (Who Loves Me) – Whitney Houston
Total Eclipse of the Heart - Bonnie Tyler
Total Eclipse of the Heart – Bonnie Tyler
Billie Jean - Michael Jackson
Billie Jean – Michael Jackson
Thriller - Michael Jackson
Thriller – Michael Jackson
In the Air Tonight - Phil Collins
In the Air Tonight – Phil Collins
Sledgehammer - Peter Gabriel
Sledgehammer – Peter Gabriel
Karma Chameleon - Culture Club
Karma Chameleon – Culture Club
Time to Get Inventive with Your Décor Using These Creative Birthday Party Ideas for Adults
Maybe you don't want to throw an 80's party.
Hey, that's fine too. There are TONS of great themes to pick from.
Use these three decorations to dress up your next party.
1.) Confetti Balloons
Don't just blow up a few balloons and call it a day. Go the extra mile with these special balloons. Try blowing them up to different sizes.
Like The Idea? Don't Forget To Check Out The Original Creator – AlexAndAlexa. Make Sure You Follow Them On Facebook!
2.) Colored Popcorn
Kids aren't the only ones who get to have all of the fun. You're never too old for this neat recipe. Worried the recipe is too involved? Don't worry – it's three ingredients: Popcorn, vanilla candy, sprinkles.
Original Party Idea From HomeAndHeartDIY – Follow Them On Facebook For Additional Ideas
3.) Food Truck Catering
Don't like cooking or suck at DIY crafts? It's all good! Maybe you could pay everyone's favorite food truck to cater your party. You may be surprised at how affordable it is compared to a traditional catering service.
This BRILLIANT Idea Comes From Our Friends At TheTomKatStudio
4.) Jack Daniels LED Lights
Instead of stringing lights around your gutter and setting out tiki torches, try stringing the lights inside a clear bottle of liquor.
Original Idea From OffGridQuest
5.) Guest Wall Book
Guest books are boring and antiquated. Try setting up an easel with black construction paper and let guests sign with light markers.
HostessWithTheMostest Came Up With This Idea As Well
Use These Little Know Surprise Birthday Party Ideas for Adults to Execute the Perfect Surprise Party
Choose Your Surprise Party Type – Believe it or not, there is an absolute plethora of ways to deliver your 'surprisee' to the intended party.

Take off work – if the 'surprisee' is a significant other, schedule off work. While he or she is at his or her job, set the trap up with some friends and family. This one is a classic.
Kidnapping – make up an excuse and drive the 'surprisee' to the actual party. Better yet, tell them exactly where you're going and give them a red herring to throw off the scent.
Emergency – You're in a bind and need your friend or significant other to come to you!
Treasure Hunt – Similar to the emergency. Leave cryptic clues to lead your 'surprisee' to the party.

Plan the Theme Around Likes/Dislikes – Believe it or not, you can use the 'surprisee' to plan your party. Tell this person that you're planning a party for a different person. Ask general surprise party questions and use the answers to plan.

Hobbies – Is there a way you can tie the party into this person's hobbies?
Likes – Make sure you know what the 'surprisee' likes
Personality – If your 'surprisee' is shy or outgoing, that may affect party attendance size.

Pick Your 'Chaperone' – Someone needs to execute those plans (such as the kidnapping or emergency)
General Tips –

Plan the party a day or two before so the 'surprisee' doesn't know what's going on
Don't twist people's arms to help you out. If they really care about the party boy or girl, they'll be there. If they're able to, they'll find the time to help you set up/plan the party.
Don't sweat it if the actual surprise is a bit of a letdown. The important thing is that you put so much thought, time and energy into this party. This will translate to the execution and your honored guest will appreciate it.
Well, there you have it!
We've provided you with a plethora of ideas and tips on throwing the perfect outdoor bash for the special person in your life.
Our ideas for adult birthday party have covered everything from alcohol portion control, party themes, throwing the perfect surprise party, planning out a tubular 80's themed birthday, and a few ideas on general decorations.
Hopefully, these few outdoor adult birthday party ideas can help you out. Now, you need to focus on improving your gift giving skills.