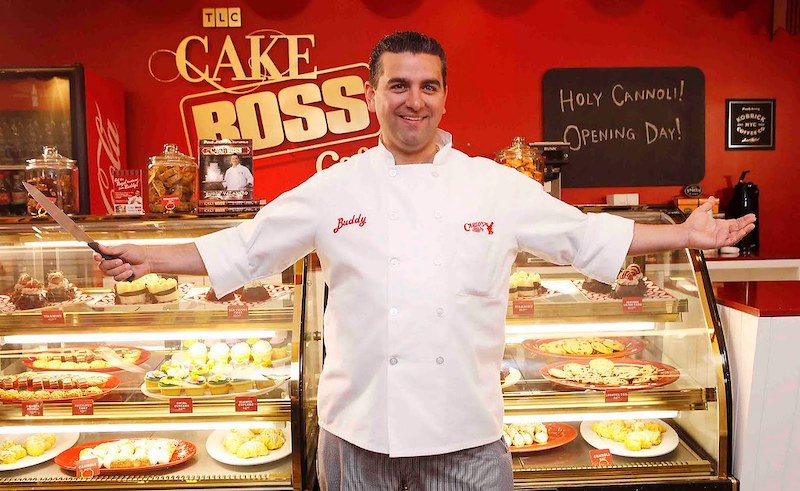 Whether you like to bake or just love Buddy Valastro's unique personality, there's no denying that his hit TV show Cake Boss strikes a chord with its viewers. If you've ever had dreams of ratcheting up your hobby a notch, Cake Boss is the show to get you there.
Along with tips that every baker can use, Valastro uses his brand to push the limits of the possible. The show now nets viewers in 220 countries and territories. And it's currently in its ninth season. And its influence is only beginning.
What Is Cake Boss?
Cake Boss is a cooking show that started in 2008 on The Learning Channel (TLC). Its popularity grew quickly and steadily, with one report showing 1.423 million viewers by its third season. Overall, the series sports a 6.7/10 rating on IMDB. That's only one point less than the hit musical series Glee, and five points higher than the enormously popular Cake Wars.
And how TLC managed to temporarily dominate culinary television can best be summed up by the drama and mythos of the host — Buddy Valastro.
Buddy Valastro
Once referred to by the New York Times as "the King Kong of Cakes," Buddy and his brash hosting style were immediately intoxicating to the public. A native of Hoboken, New Jersey, a city known for its grit, Valastro immediately gives off a city boy vibe. His effect is similar to a likable wise guy from a Scorcese film.
Valastro serves as the glue of the series, with episodes revolving around the exploits of Carlo's Bakery, a nod to his Italian heritage. Through Buddy, audiences see the conflict, the intrigue, and the complexities of owning a family business.
They also see some amazing cakes.
Buddy sells cookware
Buddy's story was eventually leveraged to advertise cookware, encouraging the would-be cake bosses of the world to take their own craft to the next level.
With Buddy's accumulated influence, it's easy to think the product line is popular because of his branded personality. So let's see how these products measure up!
Professional Bakeware
To get started, here are some of the top reviewed products from the Cake Boss line:
Cake Boss Novelty Nonstick Bakeware
This set comes with one six-cup circle mold and one six-cup square mold. These are both hard carbon steel constructions and can withstand temperatures up to 450 degrees with ease. They also feature rounded edges and work well with other Cake Boss collections in making your own unique treats.
Cake Boss Professional 3-Piece Round Cake Pan Set
This set consists of only round pans and shares many of the same attributes as the first set. They are made of the same kind of steel and handle the same oven temperature (450 degrees Fahrenheit).
That makes it a little harder to justify their similar prices, given that with the Cake Boss Professional Bakeware Set you'll get twice as many pieces.
Cake Boss 9-Piece Baking and Decorating Tool Set
Kitchen Utensils 9-Pc Stainless Steel Kitchen Gadget Set with Light...
NEW 9PCS KITCHEN TOOL SET - Focusing on your kitchen convenience, (LBN) with an upgraded 9-piece kitchen accessories set...
EXCELLENT DESIGN - Our kitchen gadget set witn more stylish design, a combination of green and silver, can be perfectly...
FIRST-CLASS QUALITY AND EXQUISITE CRAFTSMANSHIP - Made of high-quality stainless steel and ABS plastic, our cooking...
Besides the foundational baking equipment, Cake Boss' line also includes a handy set of kitchen gadgets to get you started. The Cake Boss 5-Piece Baking and Decorating Tool Set consist of:
Can opener
Bottle opener
Cheese grinder
Cheese cutter
Whisk
Ice cream spoon
Garlic press
Pizza cutter
Shredder
With these tools, Cake Boss promises you'll be able to add the panache to your baking that Buddy does to his.
Tools of the Trade
Cake Boss Decorating Tools 12-Piece Basic Decorating Tip Set, 12 Piece
6 & 12 Round, 16 & 18 Star, 30 & 193 Closed Star/Drop Flower, 47 Basketweave, 67 & 352 Leaf, 103 & 126 Rose/Petal...
This 12-piece set helps create floral designs, basketweave patterns and decorative accents on cakes, cupcakes and more;...
A durable plastic coupler is included to easily change tips on decorating bags
Viewers of Cake Boss likely are not simply entertained by Valastro — they want to do what he does. So the Cake Boss line of products connects with the show's advertising. And while most of what creates those unimaginable cakes is skill in the craft, the right tools never hurt.
Alongside the conventional tools of baking, the product line also includes more whimsical items, including decorating tools, novelties, and heart-shaped bakeware.
This decorating set will appeal to the artist in any baker. With nearly all of the set pieces being made of stainless steel, you should get a lot of mileage out of them before they need replacing.
It also comes with a convenient storage case, which reduces the possibility of having an unorganized box of decorators lying around. Further, Cake Boss claims that this set works well with the rest of their line. So if you already have Cake Boss branded products, you won't have to start from scratch.
Cake Boss Nylon Baking Cutters Set
If you're looking to spice up your cake days, this might be the answer!
This set features eight daisy-shaped cake pan pieces to bring a unique flair to your cakes. Just like some of the other Cake Boss line pans, these cutters are nylon and are perfect for shaping cakes as well as fondant.
Cake Boss Novelty Gadgets Mixed Tool Set
This two-piece set is mostly just for show, but baking is also meant to be fun! With Cake Boss spatulas hanging in your kitchen, you might be able to strike up a conversation about your favorite baking shows!
The spatula (and spoonula) are simple, with wooden handles and silicone heads. They bear the flashy Cake Boss red, and charming "Born to Bake" and "Devoted to Dessert" decals.
RELATED READS: Bake Your Heart Out with the Best Decorating Tools
The Competition
On its face, Cake Boss' product lineup seems to be as big a success as its hit TV show. They flow together quite nicely, with the first part of its selling pitch being that fancy tools don't make amazing cakes — fancy chefs do.
Ironically, the second part of the pitch is that if you purchase Buddy Valastro's baking tools, you'll be able to bake like him.
But how does it stack up against the competition?
Rachael Ray 3-Piece Oven Lovin' Cookie Pan Steel Baking Sheet Set
Rachael Ray Nonstick Bakeware Set with Grips, Nonstick Cookie Sheets /...
Set includes: 9-Inch by 13-Inch cookie sheet, 10-Inch by 15-Inch cookie sheet and 11-Inch by 17-Inch cookie sheet for...
Durable bakeware set: These cookie pans are made from heavy gauge steel that resists warping to keep you baking,...
Versatile cookie sheets: Long-lasting nonstick cookie sheets provide excellent food release when baking, roasting, etc...
Encroaching on Cake Boss territory is the notorious Rachel Ray, another electric cooking personality. Ray's product line features this sleek and affordable three-piece pan set, complete with all the bells and whistles.
According to their description, the pans are made from heavy gauge steel that resists warping, and are oven-safe for 500 degrees Fahrenheit, as opposed to Cake Boss's 450 degrees.
Another feature is that a portion of proceeds go to Ray's nonprofit, focused on teaching parents and their children how to have healthier relationships with food.
Lawei Aluminum Round Cake Pan 3-Piece Set
Lawei Round Cake Pan Set - 4" 6" 8" Aluminium Cake Pans with Removable...
Round baking pans in 3 size, 4'' - 6'' - 8'', Perfectly making 1- 3 layers beautiful cakes, 3 pcs round...
Made from high-quality anodized aluminum for even heating and durability, with a smooth surface. Removable base design,...
Rinsing by hand with soft tools and mild detergent, like a sponge and warm soapy water is recommended when cleaning cake...
This three-piece set is a formidable competitor to Cake Boss' round pan set. They present as simple, no-nonsense, aluminum pans for about half the price of Cake Boss'.
Among the possibilities for these pans are birthday cakes, layered cakes, and pretty much any other kind of cake that's round.
VANANTOM 6 Piece Spatulas Silicone Set
Spatulas for Nonstick Cookware, Spatulas Silicone Heat Resistant for...
FOOD GRADE SILICONE SPATULAS:Our rubber spatula set are FOOD GRADE material, silicone spatula heat resistant BPA-Free,...
HEAT-RESISTANT BAKING SPATULA SET:The cake silicone rubber spatula set & baking spoon are safe for Coated & Non stick...
SPECIAL DESIGN OF 6-PIECE SCRAPER SPATULA:Durable seamless silicone spatula one-piece design,no seams or cracks to...
If you want to ditch the Cake Boss logo and get quality spatulas for a few dollars less, this might be a great opportunity for you. Instead of just two, this set consists of six spatulas.
With their rubber, heat-resistant, nonstick, one-piece design, they are sure to become your go-to kitchen accessories. They're also dishwasher safe, so that saves you precious time in the kitchen.
Go Forth and Bake
Ultimately, Valastro's show and brand are in the business of promoting their products. However, the products they're pushing are far from junk, and often demonstrate a higher level of quality than many of their competitors.
With satisfied customers, sought-after products, and a flair for the dramatic, Cake Boss' product line, at the end of the day, takes after its "King Kong of Cakes" originator — it is loud, it is in your face, and it is not going anywhere anytime soon.
We want to hear from you! What are some of your favorite baking tools to use in the kitchen? Tell us in the comments!
Last update on 2023-10-04 at 02:56 / Affiliate links / Images from Amazon Product Advertising API